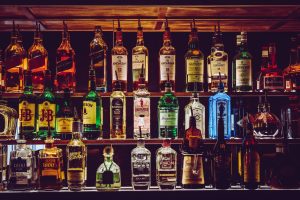 Could North Carolina's ABC stores soon be a thing of the past?
A bipartisan measure is making waves in NC, as it would dismantle the state's monopoly on the sale of liquor.
House Bill 971 would effectively overhaul the state's Alcoholic Beverage Control (ABC) system, making the sale and distribution of liquor more closely resemble that of beer and wine. The measure would shutter the 433 ABC stores across the state, making way for private, small businesses to sell spirits as well as grocery and convenience stores. It would also drastically change the way restaurants and bars are able to purchase liquor for their establishments.
Currently, NC law requires that every bottle of liquor that's made in the state or comes into the state to be sold be processed in a central warehouse in Raleigh before it's distributed to a local ABC store. When restaurant and bar owners place an order on the state's ABC website, they are assigned an ABC store depending on product availability. It's not necessarily the closest one, which makes the whole process difficult for many. It is illegal for businesses to purchase liquor without going through the state first.
Understandably, restaurant and bar owners are lining up in favor of the bill.
It's not without opposition. This week, Mecklenburg County Board of Commissioners voted 7-2 on a resolution to oppose efforts to revamp the state's ABC system. Commissioners cited losing tax revenue from alcohol sales and negative impact to at-risk communities, among other reasons. Mecklenburg received $19.7 million in taxes from alcohol sales last year.
If HB971 passes, NC would still have a regulatory role in the sale and distribution of liquor. The state would maintain a central ABC commission in Raleigh to oversee processes such as licensing, permitting, and disciplining.
HB971 is the latest in a flurry of measures in the legislature to relax the state's alcohol regulations for business owners. You'll remember the 2017 Brunch Bill which permitted alcohol sales before noon, last month's passage of a bill that eased production and distribution limits on craft breweries and distilleries, and House Bill 536 which would allow, among other things, liquor tastings at ABC stores, allow online sales on a reciprocal basis, and allow distillers to sell an unlimited number of bottles from their distilleries. HB536 has passed the NC House and waits for concurrance in the Senate.
It's still too early to tell what will happen with this latest effort, but it's one to watch if you're in the business of alcohol sales.