Confession: I love Christmas. No, let me rephrase that. I LOOOOOOVE Christmas...so much so, in fact, that I'm first in line for Black Friday deals at midnight after Thanksgiving (unlike some scrooges we know). After that turkey is put away, it's Christmas, plain and simple.
My affection for all things Christmas led me to bake some Christmas cookies this weekend. Sure, I could have chosen something simple, an easy drop or thumbprint cookie, but where's the fun in that? I was ready for a challenge -- not too big, but something just complicated enough and heavy on the festive. Enter: the decorated sugar cookie.
Goal:
I've made sugar cookies countless times. It's blindingly easy: whip up some dough, let it chill, roll it out for cutting, bake, be careful not to burn. I did all those things perfectly. So far so good.
The disaster came in the decorating. To save time, I used store-bought, pre-filled icing tubes. They sure seemed like a good idea. But as quickly as icing touched each cooled cookie, it ran off the sides. It just melted! Over and over I tried to make those pretty cookies pictured above. I never could. In the end, I resorted to a (disastrous) glaze and some sugar crystals I found in the pantry.
Behold, my Pinterest fail: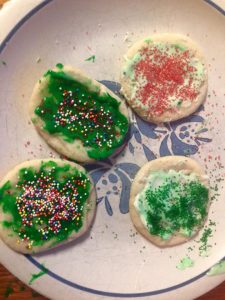 Maybe I can say my toddler made them.
Luckily, these cookies tasted better than they looked, and, in the end, I couldn't help but think that baking a complicated Christmas cookie recipe is a lot like running a business.
Persistence is THE key ingredient.

It sounds trite, but a lot of persistence is required when baking. Would my cookies have been such a disaster if I didn't try to cut corners with cheap icing? No. Like I said, I've made sugar cookies a thousand times. Never have I experienced this level of confectionary disaster.
Equal amounts of persistence are required in business, whether you're just starting up or striving to reach certain benchmarks in an existing business. Great outcomes are the result of diligent steps taken over time, not finding shortcuts. While the cookies were cooling, I should have been preparing good frosting, not lounging watching Elf for the millionth time (though Buddy's lessons are always worth revisiting), just as you should work on other elements of your business while you wait for the results of previous efforts. For example, if you are waiting to receive a confirmation for a new account, work on developing new marketing techniques or sales pitches.
Never sit back and wait idly. There is always something you can be doing to better your business.
You need a recipe.
Unlike cooking, where "eyeballing it" and experimentation are workable, baking requires an exact recipe. It does not allow for substitutions no matter how similar things seem (baking soda isn't baking powder), and it will often yield perfect results when the recipe is religiously followed. Deviate from the recipe, and you'll have a mess on your hands. Anyone who has ignored the requirement to chill cookie dough before rolling it out understands what I mean.
A recipe represents a business plan. As an entrepreneur, the key to creating a successful business is to first create a plan and then follow that recipe, adjusting it only as things go off-course. A recipe (your business plan) gives you the confidence to get started, and it helps you stay the course.
Find the joy in the process, laugh and learn where you can, and savor the result.
For me, baking is a joy, even when it doesn't turn out so great. This weekend was no exception. I had fun, I learned some things about patience and persistence, I laughed (well, at least I'm laughing now), and I devoured with joy my ugly little cookies anyway.
Running a business is often the same. It's one of life's great joys, despite the setbacks. Good things will come to those open to learning from their mistakes, those who suppress their egos enough to laugh at themselves, and those who take the time to enjoy the moment, even if the moment isn't exactly like they pictured it.
Happy holidays, everyone! Now go eat some cookies.